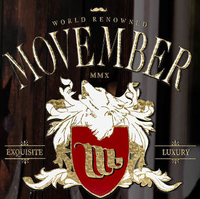 Movember happens every November. In November, men (and women - theoretically) are encouraged to grow mustaches around the world. With their "Mos", the men engage in fundraising that researches issues related to men's health, specifically prostate cancer and other campaigns.
About the Campaign
Edit
Starting on November 1st, men register on Movember.com with a clean-shaven face. For the rest of the month, these Mo Bros grow, trim, and wax their moustaches. The women in their lives, known as Mo Sistas, help support their men in the raising of funds. The goal of this campaign is to get people to talk more openly and honestly about these health issues that are plaguing men, but rarely discussed.
"my mustache brings all the girls to the yard, and their like it's better then your!"
A Global Movement
Edit
Since its humble beginnings in Melbourne Australia, Movember has grown to become a truly global movement inspiring more than 1.1 Million Mo Bros and Mo Sistas to participate with formal campaigns in Australia, New Zealand, the US, Canada, the UK, Finland, the Netherlands, Spain, South Africa and Ireland. In addition, Movember is aware of Mo Bros and Mo Sistas supporting the campaign and men's health cause across the globe, from Russia to Dubai, Hong Kong to Antarctica, Rio de Janeiro to Mumbai, and everywhere in between.
No matter the country or city, Movember will continue to work to change established habits and attitudes men have about their health, to educate men about the health risks they face, and to act on that knowledge, thereby increasing the chances of early detection, diagnosis and effective treatment.
In 2010, over 64,500 US Mo Bros and Sistas got on board, raising $7.5 million USD.
External links
Edit
Community content is available under
CC-BY-SA
unless otherwise noted.