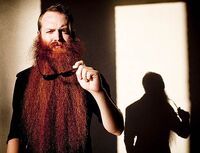 Jack Passion is an American rock musician, author, and entrepreneur. He was born and raised in Walnut Creek, California and attended Las Lomas High School (1998-2002). He has a B.A. in philosophy and was a one of his (college) class' graduation speakers.
Mr. Passion is a multiple World Beard and Moustache Champion in the Full Beard Natural category. His initial win was in 2007 at the World Beard and Mustache Championships held in Brighton, England, at the age of 23[. He successfully defended his title in the 2009 Championships (Anchorage, Alaska, where he also was the Second Place Overall Champion[. However, he was dethroned in the 2011 Championships (Trondheim, Norway), where he placed second to fellow U.S.A. Beard Team member Rooty Lundvall.
Jack Passion is the author of The Facial Hair Handbook as well as the ESPN article Breaking: World Beard Champion Talks NHL Playoff Beards.
Mr. Passion is reputed to live either in San Francisco, CA, or Walnut Creek, CA.
Books Written
Edit
Photo Gallery
Edit
External links
Edit