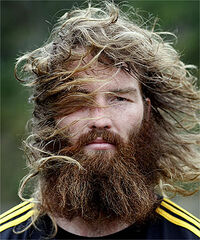 A beard is the collection of hair that grows on the chin, upper lip, cheeks and neck of human beings and some non-human animals. In humans, usually only pubescent or adult males are able to grow beards. However, women with hirsutism may develop a beard. When differentiating between upper and lower facial hair, a beard specifically excludes the moustache.
Over the course of history, men with facial hair have been ascribed various attributes such as wisdom, sexual virility, masculinity, or a higher status; however, beards may also be perceived to be associated with a lack of general cleanliness and a loss of refinement, particularly in modern times.
Community content is available under
CC-BY-SA
unless otherwise noted.